It is no longer a secret that over 60-80% of shopping carts are abandoned yearly, leading to a significant loss in sales and revenue for online stores. But what if we say you can recover these carts and convert them to revenue using a WooCommerce Abandoned Cart plugin?
Yes, WooCommerce Cart Abandonment recovery plugins are excellent tools that can help you recover lost sales. Remember, Abandoned carts are not lost; they still hold potential sales in them. With the right push, you can encourage customers to recover their carts and convert those sales.
Abandoned cart recovery plugins for WooCommerce can track customer's activity in real time, including the live carts. These plugins will automatically trigger a WooCommerce cart recovery email campaign when a customer abandons a cart. It will keep sending a series of emails until the customer returns and recovers the cart.
However, hundreds of WooCommerce Abandoned cart plugins exist in the WordPress library; choosing the right for your store is like finding a needle in the haystack.
Luckily, we've got you covered. It doesn't matter how big or small your online store is, the list of best WooCommerce Abandoned cart recovery plugins we listed in this article will help you recover abandoned sales and convert them to revenue.
Choose the right abandoned cart recovery plugins that fit your business requirements and start recovering sales.
What is WooCommerce abandoned cart?
Customers will visit your store and add products to your cart. But for various reasons, the customer might exit the store without completing the purchase. The cart left behind is called an Abandoned cart.
Abandoned carts are common in all eCommerce stores, and these carts hold potential sales in them. You can quickly recover these carts and convert them to sales using a WooCommerce Abandoned cart recovery plugin.
What is a WooCommerce Abandoned Cart Recovery Plugin?
It is a marketing tool used by WooCommerce stores to track and recover abandoned carts. Cart recovery plugins are considered the sale-savers by WooCommerce stores worldwide.
Let's put it this way – Cart abandonment is unpredictable, which makes it harder to stop. So, the only plausible option to save these sales is through Abandoned cart recovery plugins.
How?
Earlier, we said, Abandoned carts are not lost – this isn't speculation, it's a fact.
Customers will still have the interest to purchase, you just have to push a little more and also make it easy for them to purchase.
This is where Abandoned cart recovery plugins come in – send a series of abandoned cart recovery emails to customers using the plugins to re-trigger their interest to purchase.
You can also add coupon codes to these emails and motivate them to return and recover their carts.
Abandoned cart emails can recover 70% of Abandoned carts, and that's why store owners consider cart abandonment recovery plugins as 'Sale Savers.'
Why Do Potential Customers Abandon Their Carts?
Customers add products to their cart with an impulse to purchase but end up abandoning them for various reasons. This is why cart abandonment is harder to stop, as there are multiple factors that lead to it.
Here are some of the common reasons customers abandon their carts,
High shipping costs and taxes
Mandatory account creation
Lack of payment gateways
Lack of discounts and special coupons
Payment gateways that don't look secure
Limited options for shipping
Poorly optimized product pricing
Long checkout process
Lack of express delivery
Isolating a specific cause is nearly impossible and will need significant resources. This is why eCommerce stores have adopted a realistic solution: abandoned cart recovery through email.
Can I see Abandoned Carts in WooCommerce?
By default, WooCommerce doesn't keep track of Abandoned carts and their revenue, making it hard to check Abandoned carts in WooCommerce.
Fortunately, WooCommerce has a handful of Abandoned cart recovery plugins that track carts in real-time and display accurate abandoned cart data on an insightful dashboard.
The next time you want to check abandoned carts in WooCommerce, choose a cart recovery plugin to see carts left behind by customers.
So, what are the best WooCommerce Abandoned cart recovery plugins?
Let's look at the list in the next section.
7 Best WooCommerce Abandoned Cart Recovery Plugins
Retainful
Cart abandonment doesn't happen in ones and twos; you'll come across hundreds of abandoned carts every week. If you want to recover the sales from those carts, you must automate your campaign because manually keeping track of the numbers is impossible. And there is no better cart recovery automation plugin than Retainful.
Retainful is an Email marketing automation tool to reach the right customers at the right time. Retainful's abandoned cart recovery capability is simply one of its many features.
Look no further if you're looking for a one-stop, cost-effective solution to recover abandoned carts automatically. Retainful tracks customer activity and is capable of launching a cart recovery campaign as soon as the customer abandons the cart.
It comes with pre-built automation workflow templates to start your Abandoned cart recovery campaign immediately. The customer journey builder will let you customize the pre-built workflow to your preference, and you can add unlimited emails to the workflow along with dynamic coupon codes, conditional splits, time delay, and more.
You cannot get an easy-to-use DIY automation platform that caters to your needs like Retainful. Emails are the focus here, right? Make your emails attractive and professional-looking using the Drag and drop email editor of Retainful.
Customize your emails to your preference and increase conversions. Add dynamic coupon codes to your emails and encourage customers to recover their carts.
Did I say affordable? Yes, and I did because Retainful is a FREE plugin. You pay nothing to download this free WooCommerce abandoned cart plugin, and all you need to get started is to download it!
Send unlimited WooCommerce cart recovery emails.
Pre-built automation workflow templates
Pre-built email templates
Trigger rules and Path splits
Percentage, flat amount & free shipping discount
Drag and drop email editor
Dynamic coupon codes
Exit intent popup to prevent cart abandonment
Add to cart popup for lead generation
Single-click recovery for customers.
Drag & Drop email editor
Real-time insights & analytics.
The key to increasing email open rates is personalization. Use shortcodes to personalize your emails. Integrate with your favorite ESPs and connect with the best eCommerce platforms like WooCommerce & Shopify.
Pricing
Retainful pricing plans start at $19/month.
ShopMagic Abandoned Carts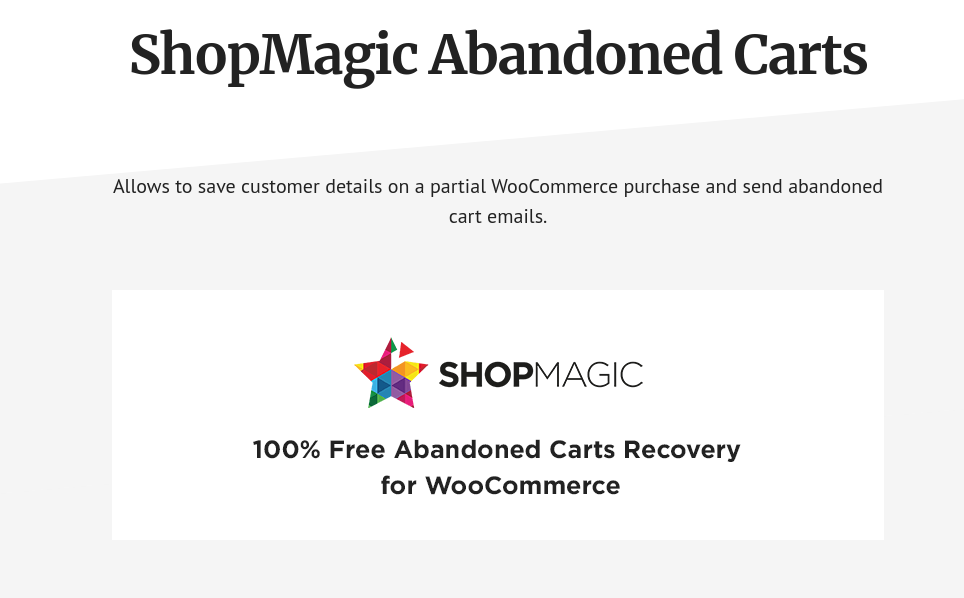 ShopMagic Abandoned Carts is another best Abandoned cart recovery plugin for WooCommerce to automate your cart recovery campaign. You can customize your emails to persuade customers, use specific triggers and conditions to launch the campaign and recover abandoned carts on the go.
We already saw the reasons for cart abandonment, but those don't matter when you use ShopMagic Abandoned carts. This WooCommerce Abandoned cart plugin will help you convert lost sales to revenue irrespective of your business and the products you're selling.
ShopMagic Abandoned cart is a free add-on of ShopMagic. You need both the plugin and the add-on to recover abandoned carts. It comes with a no-code email editor to customize your emails and increase conversions.
Features
Set timeouts on when the carts should be considered abandoned
Track both customer and guest carts
Exit intent popups available to collect customer's email address
Use placeholders to personalize your emails
Segment carts based on the items present in them
Automated cart recovery emails
Integrate with Mailchimp
Google sheet integration.
Pricing
ShopMagic Abandoned Carts pricing plans start at $69
CartFlows

CartFlows is one of the newest Abandoned cart recovery for WooCommerce, and exports are talking highly about it. It captures customer's email addresses as soon as they enter the checkout, and if the purchase is not made in 15 minutes, it will start sending cart recovery emails to customers.
Tracking customer activity and triggering an email manually is impossible. With CartFlows, you can automatically send Follow emails as soon as the cart abandonment occurs.
To get started quickly, this WooCommerce Abandoned cart plugin has pre-built templates, so you don't have to start from scratch. You can add coupons to your emails to motivate customers to return and recover their carts.
Features
Send emails automatically
Personalize emails to increase open rates
Send unique checkout links for easy recovery
Multiple ESP integration
GDPR compliant
Real-time reports and analytics.
Pricing
CartFlows annual license is priced at $239.
Abandoned cart lite for WooCommerce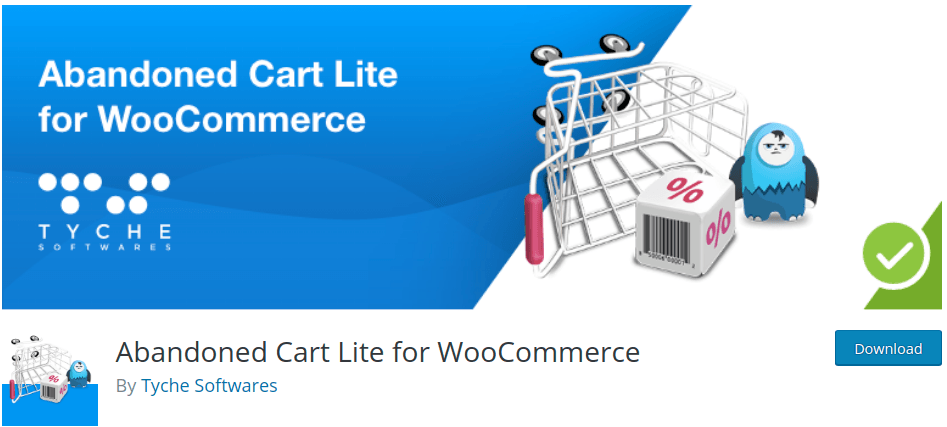 Are you just starting? Is your customer base small? Then Abandoned Cart Lite for WooCommerce is the right plugin for you.
If you can't afford the all-in-one automation plugins, this Abandoned cart recovery plugin for WooCommerce will suit your needs.
This plugin tracks customers when they abandon their cart and right after they enter the checkout process. If the customer quits without purchasing, an email notification will be sent to customers to recover their cart.
It comes with a three-email campaign workflow and can send coupons to encourage customers to return. It comes with pre-built email templates to help you launch your cart recovery campaign within minutes.
Works in the backend and does the following,
Sends email notifications to both guests and customers.
Create well-timed email reminders
Track the recovery percentage
Use pre-built templates to launch your campaign quickly.
Emails will be stopped once the customer recovers the cart.
Pricing:
Free for the lite version and Pro for a single WP site is $119/year.
CartBounty

Automated cart recovery plugins are the need of the hour, and following on our list is also an automation plugin, CartBounty. From the moment a product is added to the cart, CartBounty will save the cart and track the activity in real time.
Triggering emails manually whenever a customer abandons the cart is a tedious task. With CartBounty, you can send cart recovery emails automatically as soon as the cart abandonment occurs. You can send emails via WordPress, ActiveCampaign, GetResponse, and MailChimp.
Adding a plugin will usually take a toll on your site, impacting the site speed and so on – but not CartBounty. It is a lightweight plugin that can run an automated campaign smoothly.
CartBounty can help you capture your customer's email address using popups and then you send cart recovery emails to your customers and request them to recover their cart.
Features
Captures WooCommerce checkout field data before submission to save abandoned carts.
View and track guest carts
Real-time cart monitoring
Send unique coupon codes to encourage cart recovery
Effectively track email open and click-through rates.
Exit intent popup to prevent cart abandonment
You can send SMS reminders using CartBounty
Thank You' message about successful cart recovery.
To win them back, you can also offer an additional discount on a cart by sending coupons through emails.
Pricing
CartBounty pricing plans start at $54
YITH – WooCommerce Recover abandoned carts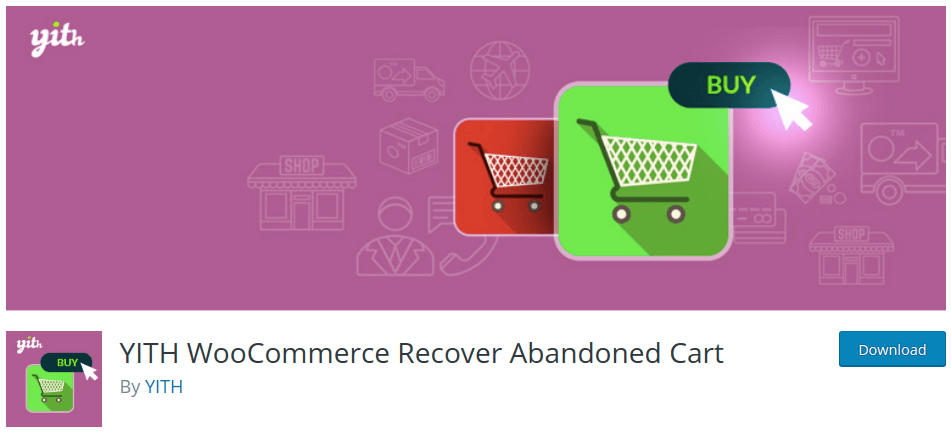 One of the sophisticated Abandoned cart recovery plugins for WooCommerce is the YITH WooCommerce Recover Abandoned carts. You can send cart recovery emails to customers who abandoned their carts and request them to recover their carts.
Additionally, you can add coupons to your emails and send them at different intervals to get the maximum conversion. The best aspect of this plugin is that you can define user roles and other conditions. When you express certain conditions, the email will be sent only to customers who meet the right conditions.
You can also set the time after which the cart should be considered abandoned, and this will help you launch your cart recovery campaign at the right time before the customer moves on to the next store.
It hardly takes a minute; with the pre-built templates, you can create and launch a cart recovery campaign quickly and start sending emails to recover lost sales.
Features
Guest cart recovery
You can send multiple types of emails to users
Email editor to customize emails
WooCommerce multi-currency support
WPML capability
Send discount coupons via emails
Insightful dashboard to track cart recovery campaigns.
Pricing
A bit expensive compared to the rest, and the pricing starts at $79/99 per year.
Abandoned cart reports for WooCommerce

As the name says, Abandoned Cart Reports for WooCommerce provides real-time data on Abandoned carts and recovery campaigns. This plugin records every cart as soon as the customers add products to them.
Even if the customer doesn't provide an email address, this plugin will associate the abandoned carts to a customer using their IP address and other means.
Each cart will be marked as 'In Progress,' and it will wait 15 minutes for the customers to complete the purchase. If the purchase doesn't happen, the cart will be considered abandoned, and recovery emails will be sent.
Also, this free WooCommerce abandoned cart plugin helps you know the trends using the dashboard and data pages.
Pricing
The WooCommerce abandoned cart plugin is Free to download from the WordPress repository.
Conclusion
Abandoned carts can impact your revenue and cause inventory inconsistencies if you leave them unnoticed.
Though Cart abandonment is hard to stop as customers abandon carts for various reasons, you can still recover those abandoned sales and convert them into revenue by sending Cart recovery emails.
This is where you need a top WooCommerce Abandoned cart recovery plugin. With these plugins, you can send follow-up emails to customers and convince them to recover their cart.
We listed some of the best Abandoned cart recovery plugins for WooCommerce in this article. You have a few different choices – if you want an ultimate cart recovery solution, go with Retainful. Abandoned cart lite will be suitable if your customer base is small.
If you have enough expenses, you can afford YITH – so the choice is yours as every plugin serves a similar purpose, recovering Abandoned carts.
What's it going to be? Which plugin do you think will suit your business? Let us know.
Does WooCommerce have abandoned cart recovery?
Yes, WooCommerce has an extension that lets you recover abandoned orders. Also, hundreds of Cart recovery plugins are in its library to recover abandoned carts.
How many emails can I send to recover abandoned carts?
One cart recovery email is enouRecover abandoned carts with woocommerce abandoned cart plugins. Here are the 7 abandoned cart recovery plugin for woocommerce to recover lost sales.gh for a loyal customer to bring them back. But the recommended practice is to send a series of five cart recovery emails at specified intervals to recover abandoned carts.
Why is shopping cart abandonment a problem?
When a customer abandons a cart – a sale is lost, and so is a customer. This is why you must send cart recovery emails and discount coupons to rekindle their interest and recover lost sales.
How do I create an abandoned cart in WooCommerce?
You can easily create an abandoned cart for testing your campaign. Just add products to your carts and don't purchase them; the cart will be considered abandoned.